About Volcano Adventure Camp(VAC)
Volcano Adventure Camp (VAC) is the new youth camping facility at Lassen Volcanic National Park that will help more youth connect with nature and become future stewards of Lassen Park. Environmental educational activities, including "Leave No Trace" curriculum, will be enhanced with the upgraded campground. VAC is eligible for youth group use ONLY.
Check out these videos to learn more:
VAC Kids Say "Thank You"!
What to Expect at the Volcano Adventure Camp
Raise Funds for the Volcano Adventure Camp
Frequently Asked Questions
For your youth group to be considered eligible to stay at the Volcano Adventure Camp 2022 you must meet the following guidelines:
Group size must be a minimum of 7 people, a maximum of 40 people, and be comprised primarily of youth between the ages of 6 – 18 years old. Please note there are only 40 beds available in the tent cabins this year due to the COVID-19 pandemic.
Group camping trips must be a minimum of three days (two nights) and not exceed five days (four nights). Note that one tent cabin will hold 1 adult/supervisor and up to 3 youth. I adult per cabin is a Lassen Volcanic National Park policy.
Additional restrictions may be set in response to the COVID-19 pandemic.
SUGGESTED DONATION amount for groups wanting to reserve VAC tent cabins (7 – 40 people) is $75/night:

Medium group capacity (5 tent cabins or 1/2 the VAC) = 7 to 20 people total.

Large group capacity (10 tent cabins or the Full VAC) = 21 to 40 people total.

If your group represents underserved youth you may qualify for a grant up to $1,000 to offset camping costs through our Youth Camping Program. These small grants are awarded to non-profit youth organizations, public schools, and/or government agencies to facilitate camping trips for underserved youth at Volcano Adventure Camp.Grant applications are available January - March every year. If you have missed the current year's grant application (available late January - March 31 annually), please mark your calendar for next year and consider reserving space for this year.
Tent cabins, a cooking area, food lockers, campfire circles, vault toilets and shower facilities make camping more convenient for youth groups. The former Crags Campground is the home of the new Volcano Adventure Camp, and offers a chance for youth to camp during the "shoulder" season. For more information on the camp, please visit the LAVO website.
The $700,000 capital project (LPF and NPS combined contributions) opened for youth groups in summer 2017. We have completed our portion of the capital campaign and raised over $480,000 to build the project. Now our efforts are redirected at ensuring the long-term success of the facility by building an Endowment Fund. To make a donation toward the Endowment Fund, please use our ONLINE DONATION FORM or call our office at (530) 768-1110.
Youth Camping Program
The Lassen Park Foundation and Lassen Volcanic National Park have been introducing youth (ages 6 to 18 years) to the joys of camping in a national park since 1996. For the past 24 years this Youth Camping Program has supported non-profit youth groups that serve at-risk or underserved children by awarding scholarships to offset their camping costs. Many of these young campers have never camped or visited a national park before participating in the Foundation's youth camping program.
This summer enrichment program supports non-profit organizations, public schools, and local government programs that serve at-risk or underserved youth from throughout Northern California. Through camping, exploration, and education, the youth camping program addresses the following goals:
Camping facilities provided at the Volcano Adventure Camp introduce new campers to the outdoors in a group setting.
Educational excursions provide opportunities for young campers to step into Lassen's rich natural and cultural history.
Through exploration of Lassen Volcanic's mountain ecosystems, campers discover their connection to the complex web of life.
Ranger-led environmental education activities emphasizing teamwork and cooperation enable children to safely experience the great outdoors.
Campers enjoy fun outdoor activities, which encourage healthier lifestyles through exercise.
Unforgettable experiences in the great outdoors foster future stewardship for our national parks.
Additional Resources:
Availability
The Volcano Adventure Camp (VAC) will operate from June 17, 2022 to September 18, 2022.
The camp is divided into two half sections, each with five (5) tent-cabins and 20 available beds. Please note that the camp capacity this year may be affected by COVID-19 pandemic restrictions. Additional information describing 2022 camp site availability will be posted here in early 2022.
For questions, please email us at info@lassenparkfoundation.org
Phase 2: Camp Expansion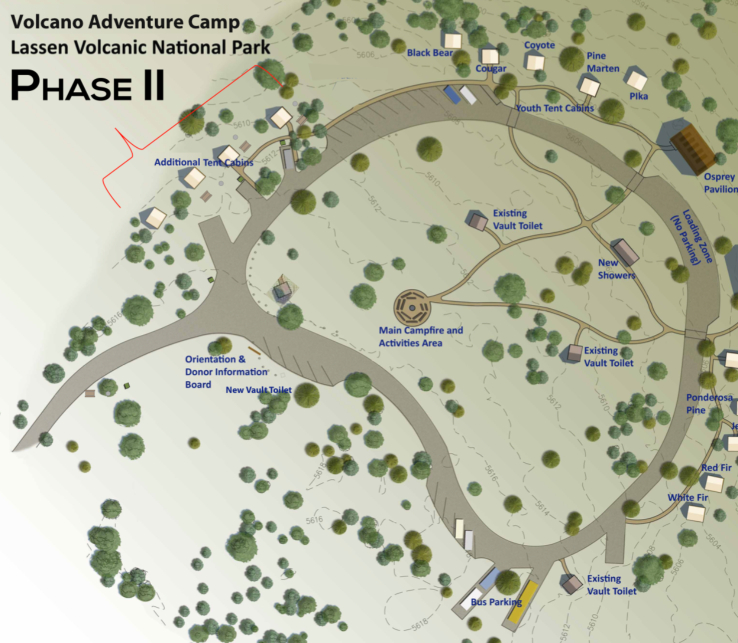 Phase two of the Volcano Adventure Camp (VAC) will expand the size of the facility and to accommodate smaller youth groups (ranging in size from 6-15 people) in tent cabins. These additional cabins will be individually reserved for small youth groups, those too small to stay in half of the facility as the larger groups do.
The expansion will bring the facility capacity up to 112, necessitating construction of tent facilities and a fourth vault toilet.
Your generous financial and/or in-kind contribution will help Lassen Park Foundation and Lassen Volcanic National Park to serve a greater number of youth campers. Thank you to all the VAC donors that contributed to the initial camp construction.