Public Comment Needed for Proposed Fee Increase at Lassen Volcanic National Park
Posted June 30, 2017
Mineral, CA – During the month of July, Lassen Volcanic National Park is looking for public comment on a proposal to bring the rates for fees in alignment with the standard pricing model of similar national park areas. The current park entrance fees were partially raised in 2015 from the rates that were in place at Lassen Volcanic since 1998. The proposed entrance fees are as follows: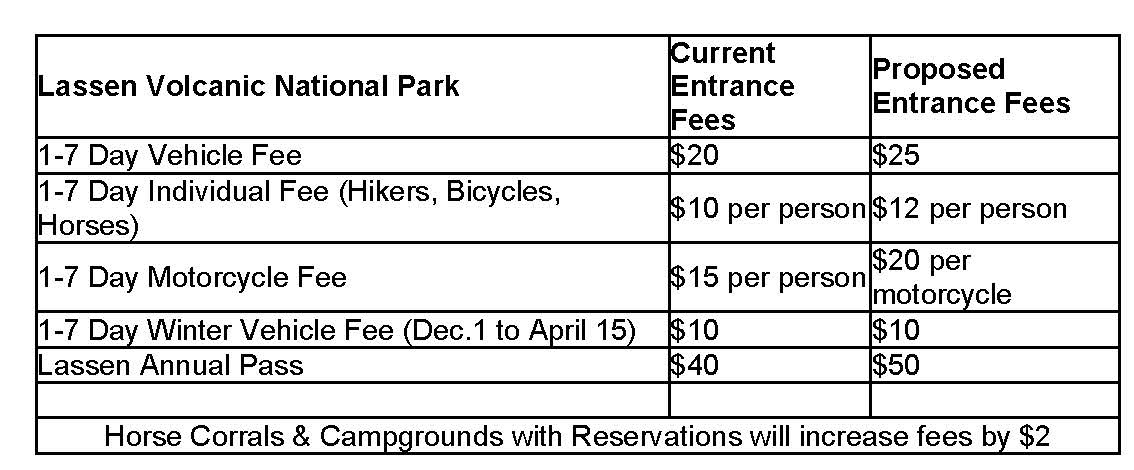 Entrance fees are not charged to persons under 16 years of age or holders of the America the Beautiful National Parks and Federal Recreational Senior, Access or Military Passes. These passes may be obtained at the parks. Other proposed visitor use fees for recreation use and camping have been developed through comparability studies with surrounding area services and are a part of the new fee schedules.
"We are committed to keeping the park affordable, but we also want to provide visitors with the best possible experience," said Lassen Volcanic National Park Superintendent Jim Richardson. "The money from camping/entrance fees is used to improve visitor facilities, infrastructure, and visitor services."
Recreation fee dollars at Lassen Volcanic have made possible the reopening of Butte Lake Campground, installation of park-wide wayside exhibits, development of the Lassen Crossroads Information pavilions, installation of campground bear-proof food lockers, restoration of the Lassen Peak Trail, repair of Pacific Crest Trail, horse corral improvements, rehabilitation of the Devastated Area Accessible Interpretive Trail, installation of ADA-compliant audiovisual system at Loomis Museum, provide children's interpretive exhibits in the visitor center, develop Crags Campground youth camp, rehabilitation of three campground amphitheaters, and museum / visitor center exhibits. Additional revenue raised by a fee increase would be used to improve and maintain Kings Creek Falls and Bumpass Hell trails, rehabilitate Warner Valley Campground, and improve campground roadways and restrooms.
Lassen Volcanic National Park is a strong economic engine for the surrounding area. In 2016, more than 536,000 park visitors contributed over $32.6 million to the local economy and supported 478 jobs related to tourism.
Comments can be submitted through the park's planning and social media websites found at nps.gov/lavo beginning July 1 and ending July 31. A public meeting is scheduled for July 18 at the Redding Library from 5:30 p.m. to 7:00 p.m.