Skip to Content
From November 14 to 28, 2023, you can make a generous contribution to Lassen Park Foundation through the North State Giving Tuesday Program. For more information, please visit https://www.northstategives.org/organization/Lassen-Park-Foundation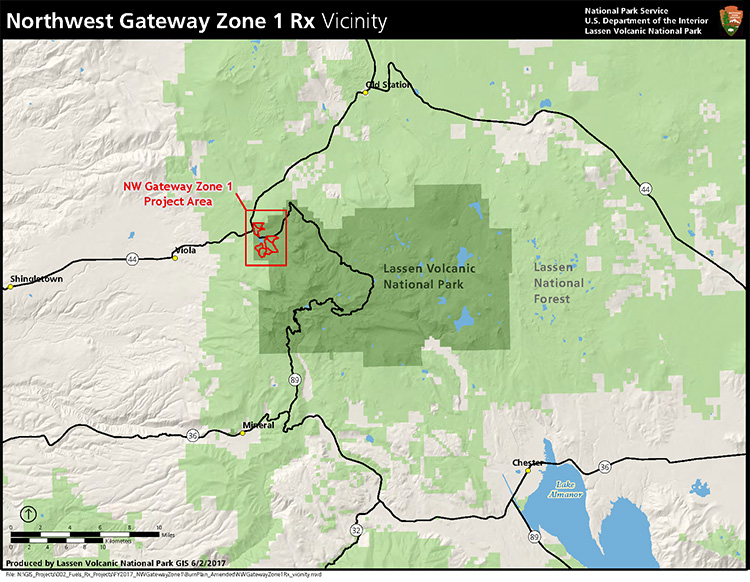 Lassen Volcanic Prepares for Prescribed Burning
Posted October 15, 2021
MINERAL, CA- Lassen Volcanic National Park will make use of forecasted precipitation to complete prescribed burning within the park.
"These prescribed burns are part of a multi-decade fire management program to reduce the intensity and severity of future wildfires in the park," said Fire Management Officer Mike Klimek. "Autumn weather supports low to moderate severity prescribed burns. Research shows this type of treatment results in forests that recover with increased forest health and are more resilient to high-severity fire."
Prescribed burning is planned for approximately 225 acres (Units G and F) southwest of Manzanita Lake Campground. This is part of the multi-year Northwest Gateway Forest Restoration (NWG) Project and involves the reintroduction of fire to units that were previously treated by mechanical thinning. Learn more about the NWG Project at nps.gov/lavo/learn/management/nwg.htm.
Firefighters will also burn piles in the following locations as conditions allow: Mineral headquarters, Summertown (north of Manzanita Lake), Summit Lake Ranger Station, Hat Creek Road, Lost Creek Helispot, Horseshoe Cabin, Juniper Lake Area, and along Butte Lake Road.
Smoke from prescribed burns may be visible within and outside of the park. Current fire activity will be posted to the park website at go.nps.gov/lavo/fire. Air quality information including Particle Matter (PM2.5) measurements at Manzanita Lake and Mineral is available at go.nps.gov/lavo/airq.
Back to top