Lassen Volcanic National Park's Annual Dark Sky Festival
Posted August 10, 2017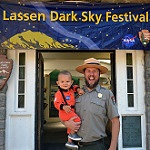 Photo courtesy of the National Park Service
Lassen Volcanic National Park, in collaboration with NASA, Astronomical Society of Nevada, and International Dark Sky Association will host the 2017 Dark Sky Festival, announced Park Superintendent Jim Richardson. This year's Dark Sky Festival, from August 11 to 13, is filled with exciting activities for all ages.
Daytime activities include safe sun viewing through special solar telescopes, hands-on science and art fair, special Junior Ranger astronomy activities, workshops, demonstrations from astronomy educators, and a chance to learn about the exciting field of astrobiology from NASA scientists. One of the many new programs featured this year is "The Magic of Astronomy" where scientist and magician, Dr. William Mehm will present an entertaining and magical look at the science and history of astronomy.
When the sun sets, the fun continues at the Dark Sky Festival where visitors will discover that Half thePark is after Dark. They will have the chance to learn about Lassen's role in protecting naturally dark skies as well as its role in the search for life on other planets! Buehler Planetarium's Derek Demeter and Brian Grigsby from Shasta High School will deliver evening programs on our solar system and the universe at the Manzanita Lake Amphitheater. At the Kohm Yah-mah-nee Visitor Center, NASA scientists will present exciting programs on the field of astrobiology featuring: Dr. Mary Beth Wilhelm; Dr. Dave Des Marais, the principal investigator of the NASA Astrobiology Institute Ames Research Center Team; Niki Parenteau, NASA and SETI Institute scientist, Sachin Senoy, NASA astronomer, and Dr. Gustavo Cruz Diaz of NASA Ames Research Center.
As night falls, Lassen will reveal magnificent star-filled skies, which provide a chance to marvel at some of our neighboring planets, including Jupiter, Saturn, and Venus. Plenty of big telescopes will be available for the public to view the celestial wonders of Lassen's dark sky. Telescopes will be set up at Bumpass Hell parking area and in the Manzanita Lake area for public viewing. There will also be a special mobile observatory by Star Chaserz in use at the Kohm Yah-mah-nee Visitor Center that provides a unique look at the cosmos in "A Guided Illustrated Tour of the Night Sky" presentation. Dress warmly and come to Lassen for this year's festival, where Half the Park is after Dark.
For more information, please visit the park website at www.nps.gov/lavo, go.nps.gov/darksky, or contact park staff at (530) 595-4480 during the hours of 9:00 am to 5:00 pm. #lassendarksky