Lassen Volcanic National Park Opens Highway to Devastated Area
Posted April 29, 2017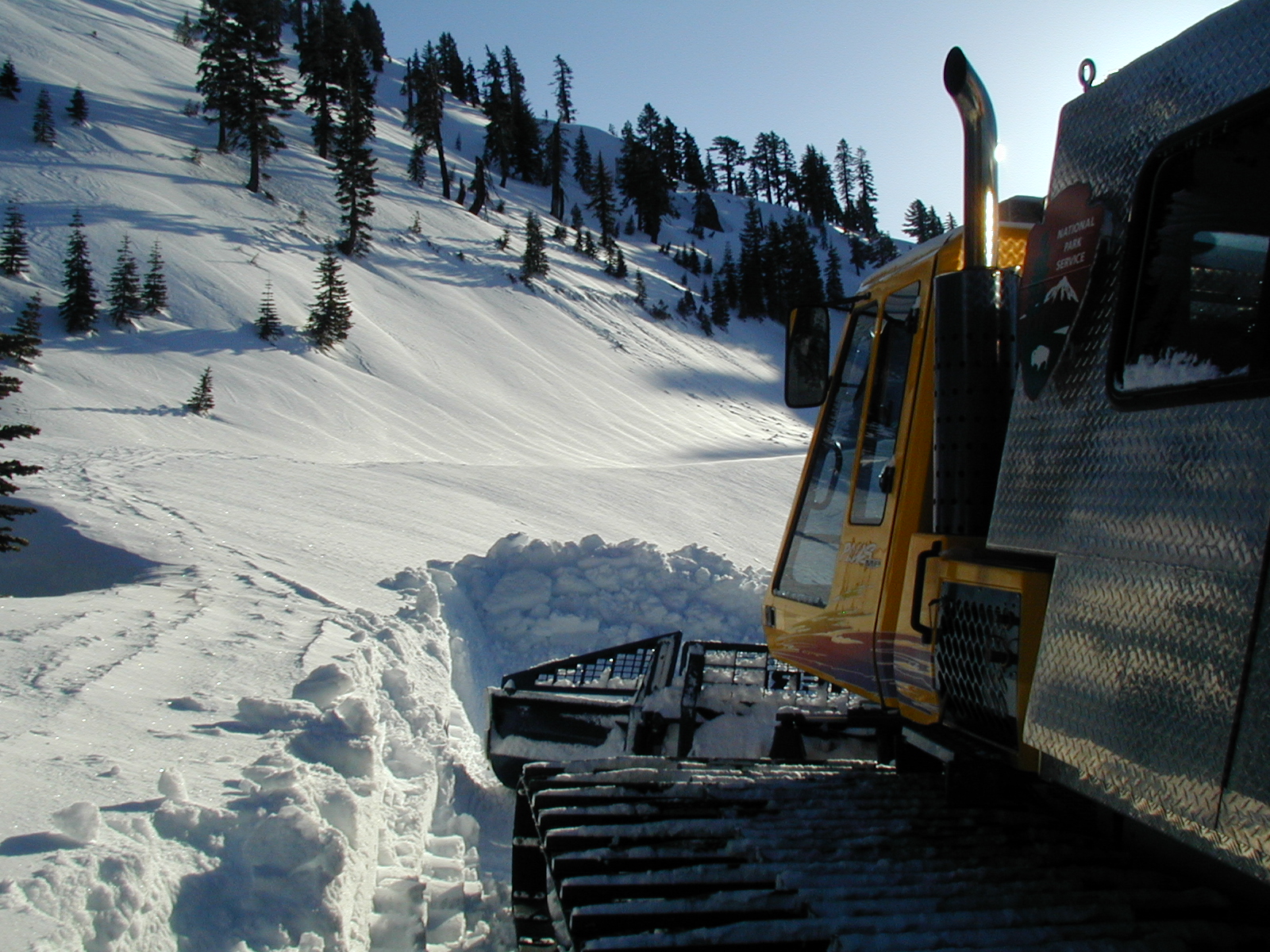 Lassen Volcanic National Park has opened a ten-mile portion of the park's main highway from the Manzanita Lake Entrance to the Devastated Area today, announced Park Superintendent Jim Richardson. The Devastated Area provides opportunities for visitors to snowshoe, cross country ski, and play in the snow. "Spring is an excellent time for visitors to experience the quiet snow-covered landscape." said Richardson.
The 30 miles of park highway from State Route 44 in the North to State Route 36 in the South typically opens fully to the public by mid-June depending on weather conditions. With the Devastated Area open, the park's road crew will begin clearing the highway on the south side of the park this coming Monday. May could still bring significant snowfall and the opened portions may be closed for short time periods during lingering spring snowstorms.
The park's road crew works to clear the highway under sometimes highly hazardous circumstances. Deep snow is cleared from the road in steep, avalanche-prone terrain. The road underneath is not always apparent. Fallen trees and other debris are often buried in snow. Snow depth at the Lake Helen Snow Survey site for the month of April was 243.5 inches with water content of 133.5 inches, density of 55% which is 172.2% of normal. Another snow survey is scheduled for the beginning of May and the new data will be available on the park website or be seen as the "Lower Lassen Peak" station on the California Department of Water Resources website's snow surveys page.
As the highway clearing proceeds later into spring the park will be able to announce this year's Hike & Bike the Highway event about two weeks prior to the opening of the highway to through traffic. Please watch for the announcement through social media and your local media. The 2017 summer issue of Peak Experiences is now available on the park website for those visitors wanting to start their planning for their summer visit to Lassen.
Visitors should still be prepared for possible winter conditions as mountain weather can change quickly. It is best to dress in layers so you may adjust for changing weather and bring vehicle chains, blankets, food, water, sunscreen, and sunglasses. Snow players, snowboarders and cross country skiers should stay clear of snowplows working in these areas (both up slope and down slope), as equipment operators may be unable to see or hear any visitor activities.
The Lassen Volcanic National Park Kohm Yah-mah-nee Visitor Center is open every day from 9:00 a.m. to 5:00 p.m. For more information, please visit the website nps.gov/lavo or contact the park at 530-595-4480 or lavo_information@nps.gov.