Lassen Volcanic National Park Highway to Open May 27
Posted May 23, 2018
Lassen Volcanic National Park Highway will officially open to through traffic on Sunday, May 27. On the year's opening weekend, visitors can expect to choose from springtime activities in the Manzanita Lake area or spring snow conditions in the southwest area of the park.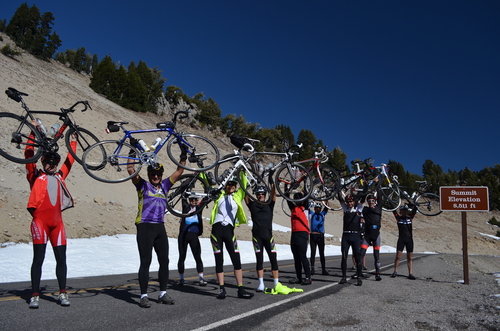 "We are pleased to be able to open the highway to through traffic in time for the Memorial Day weekend," said Superintendent Jim Richardson. "We are fortunate to have benefited once again from CalTrans assistance in addition to lower than average snow depth."
The park highway is currently open to vehicles between the Northwest Entrance and Devastated Area (10 miles) and the Southwest Entrance and Sulphur Works (one mile). The next opening will be to through traffic on May 27, to allow for necessary preparation of parking areas and facilities and rockfall monitoring and clearing.
The annual Hike and Bike the Highway event will take place on Saturday, May 26. Hikers and bicyclists are welcome to enjoy the 19-mile section of highway between Sulphur Works and Devastated Area without vehicles any time prior to the highway opening. Visitors should exercise caution by staying alert for rockfall, traveling in the lane farthest from a downward slope; and maintaining an appropriate speed.
Summer season kicks-off in the Manzanita Lake area Friday, May 25 with the opening of the Loomis Museum (Friday-Sunday through 6/17). Trails are mostly snow-free in this area, making it the best option in the park for spring hiking. Butte Lake Campground and Warner Valley Campgrounds will open shortly after on June 8. The Warner Valley area is open to vehicles now.
Winter enthusiasts can enjoy spring skiing in the southwest area, including Lassen Peak. All trails in this area require over-the-snow travel. Winter equipment such as skies, snowshoes, ice axe, crampons, and avalanche safety equipment are recommended. Spring is a time of change at the park, please be prepard for your visit by checking the park's website or calling the visitor center to get the most up-to-date information on the status of park roads, campground openings, and trail conditions.
The Bumpass Hell Trail and Basin are closed for a multi-year rehabilitation project. The project strives to improve the visitor experience by improving the trail, boardwalk, and waysides. At this time, Sulphur Works hydrothermal areas is the best alternative to Bumpass Hell. Later in the summer season, visitors can hike to additional hydrothermal areas in in the Warner Valley area. Learn more at go.nps.gov/lavo/bh.
The Kohm Yah-mah-nee Visitor Center is open daily from 9 am to 5 pm. The Loomis Museum will be open Friday through Saturday beginning May 25 and daily beginning June 18. For more information, please visit nps.gov/lavo or contact the park at (530) 595-4480 or lavo_information@nps.gov.
Visit us at nps.gov/lavo or as LassenNPS on Facebook, Twitter, YouTube, Instagram, and Flickr.