Skip to Content
Thank you to all that were able to join Lassen Park Foundation at Loomis Plaza and the Park Ranger-led night viewing session on Saturday, August 12, 2023. We look forward to sharing "Our Passion for Lassen" at the next Lassen Park Foundation event. Stay tuned for details.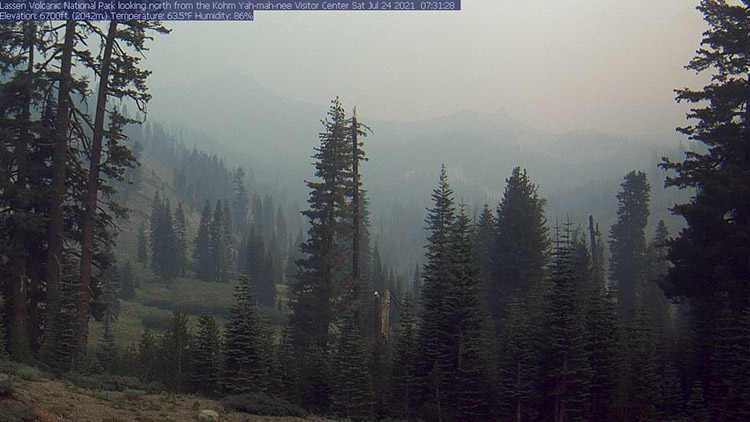 Lassen Volcanic Implements Temporary Closures and Restrictions
Posted July 26, 2021
Lassen Volcanic National Park will implement temporary closures in response to the nearby Dixie Fire. Beginning noon July 24, Warner Valley and Juniper Lake areas will be closed to all access and the entire park will be closed to backcountry camping.
"The Dixie Fire is burning approximately 18 miles southeast of Lassen Volcanic National Park," said Superintendent Jim Richardson. "The fire has potential to reach the southern boundary of the park, which could impair safe exit from Warner Valley, Juniper Lake, and backcountry areas."
The temporary closures are intended to improve the safety of visitors and emergency responders. Warner Valley and Juniper Lake areas have only a single point of entry and exit and could be impacted by fire activity in the nearby Chester Area. The Dixie Fire has further reduced the limited communication network in the region, which is crucial to notifying backcountry campers who would otherwise be spread throughout the park.
A temporary fire restriction is in effect for Butte Lake Campground as of July 23. The restriction is in response to extreme drought conditions contributing to severe wildfire risk and the inundation of our national wildfire response system. The fire restriction prohibits any open flame including campfires and charcoal grills. Ignition sources that can be turned off and do not produce ash are permitted. This is generally limited to devices that address basic camper needs of cooking and lighting only. Campers at park campgrounds without restrictions are asked to be especially cautious when using designated campfire pits or any open flame. Approximately 95% of all wildfires in California are caused by human activity.
The Pacific Crest Trail (PCT) is closed between Highway 70 and 36, south of the park. PCT through hikers are encouraged to take an alternative route to Highway 44 near Old Station to continue their journey.
Park air quality and some operations are currently impacted by the nearby Dixie Fire. Air quality can change hour to hour. Visitors can check real-time air quality measurements at stations in and around the park on the AirNow Fire and Smoke map at https://fire.airnow.gov/. Park operations including gift stores and food service may experience reduced hours or temporary closures as staff are impacted by the Dixie Fire. Drakesbad Guest Ranch in Warner Valley is currently closed. Current conditions including air quality, fire restrictions, temporary closures, and more can be viewed at go.nps.gov/lavo/conditions.
Back to top