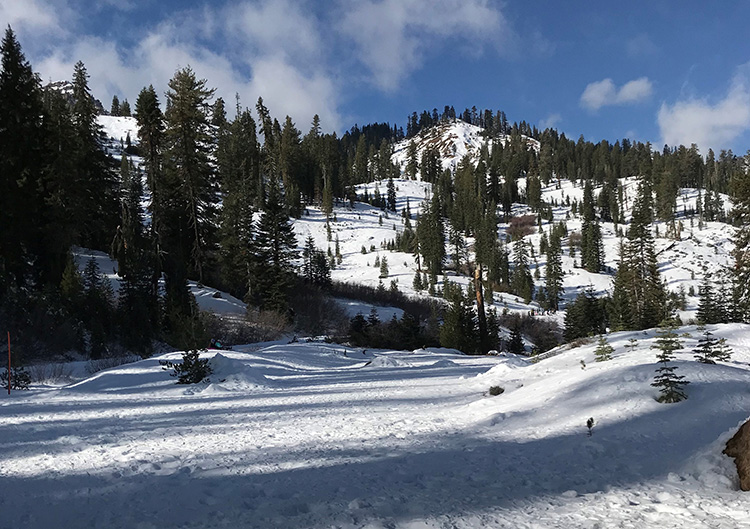 Holiday Season at Lassen Volcanic
Posted November 30, 2020
MINERAL, CA – Lassen National Park Highway (CA State Hwy 89), which is the main road through Lassen Volcanic National Park, has closed for the winter. However, the park remains open throughout the year for visitors to recreate responsibly in their public lands. Those planning to visit during the winter months should plan ahead by checking the weather and the park website before venturing to the park.
Ten inches of snow currently covers the ground at the Kohm Yah-mah-nee Visitor Center (6,700 feet in elevation). In the northwest area of the park, at the Loomis Museum (5,900 feet in elevation) there are small patches of snow along the Manzanita Lake trail. Cross-country skiing along the park road is possible at higher elevations. However, snow is still very shallow, preventing sledding and making backcountry skiing hazardous. Visitors should be advised that a temporary camping closure remains in place east of the Lassen National Park Highway.
The Kohm Yah-mah-nee Visitor Center is open 9 a.m. to 5 p.m. Wednesdays through Sundays, with the exception of Thanksgiving and Christmas. Restrooms are available 24 hours a day, even when the main building is closed for holidays. The Loomis Museum has closed for the winter and will reopen in May 2021, restrooms are available at the Loomis Plaza.
Visitors are reminded that the Kohm Yah-mah-nee Visitor Center continues to operate with limited services this winter. Indoor dining is not available, the exhibit area and auditorium remain closed, and there is limited occupancy in response to the COVID-19 pandemic. "Operating in this manner helps protect staff, while still providing the necessary services to keep our visitors informed and safe," said Acting Superintendent, Jason Mateljak, who is working in that role while Superintendent Jim Richardson is on temporary assignment in Washington D.C.
Food, gifts, and books are still available for purchase, Wednesday through Sunday from the Lassen Association Store (www.lassenassociation.org), and on the weekends from the Lassen Café and Gift (www.lassenlodging.com). The park film is streaming for free on the Lassen Volcanic Youtube channel (www.youtube.com/lassennps).
Lassen Volcanic National Park asks the public to be our partner in recreating responsibly, by adopting social distancing practices and by wearing a face covering when social distancing cannot be maintained. The health and wellbeing of visitors and employees is our top priority. America's public lands belong to the American people, and throughout this pandemic the National Park Service and Lassen Volcanic National Park have followed guidance from the Centers for Disease Control and Prevention and state and local public health authorities to adapt to changing conditions. We urge visitors to practice Leave No Trace principals by packing out everything they bring into a park, planning to visit during slower days and times, maintaining social distance from other visitors, and if they encounter a crowded area, to seek another location to recreate.