Skip to Content
Lassen Park Foundation is accepting donations to assist the park with recovery from the Dixie Fire. To learn more about the Lassen Resilience Campaign,
Click Here.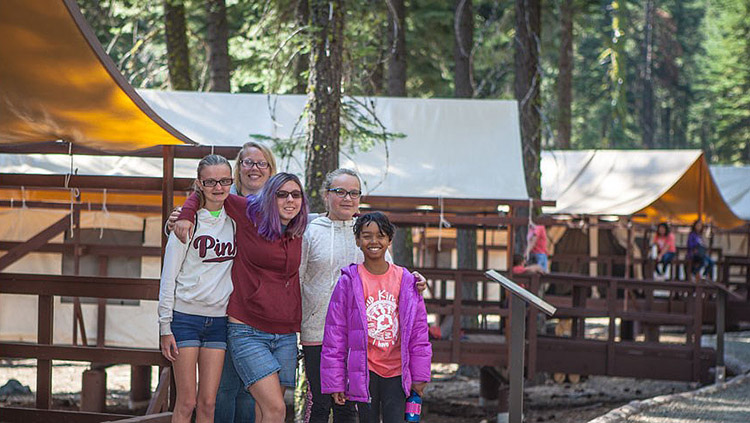 Grant Application Period Open for Volcano Adventure Camp
Posted February 1, 2022
Lassen Volcanic National Park and its partner, Lassen Park Foundation, invite youth groups to apply for a grant to stay at the Volcano Adventure Camp (VAC) this summer season. Lassen Park Foundation will accept applications through March 31st. These grants help cover the cost of the trip to the youth camping facility in the Park.
Any organization or school assisting primarily underserved youth is eligible to apply for a grant up to $1,000. Groups with for-profit status may require a non-profit fiscal sponsor. Park admission and campground fees are waived for grant recipients and grant funds are available to pay for camping and hiking equipment, water bottles, groceries, and transportation. The camp is outfitted with dormitory-style tent cabins, picnic pavilions, showers, vault toilets, and running water.
The Volcano Adventure Camp will operate June 17th through September 18th, 2022, weather and health restrictions permitting. More information and a link to the application can be found at go.nps.gov/VAC and at LassenParkFoundation.org.
Groups not seeking grant funding but wanting to reserve a stay at the Volcano Adventure Camp this year may apply through a separate reservation application. That reservation system will be available at www.LassenParkFoundation.org beginning on March 31st.
Activities at the camp build stewardship and respect for public lands as well as teamwork and individual responsibility. Sarah Welsh, one of the chaperones from 2021, shared: "The kids were able to test their knowledge on the seven Leave No Trace Principles [and] were also able to participate in a stewardship project and pick up over 1,000 pieces of micro trash throughout the park!"
Back to top